Ron Snell grew up in a military family and had the opportunity to live all over the country. During all of those moves, Geneva County always remained home. He obtained his Bachelor's Degree from Auburn University in 1987 in General Social Studies and began teaching in Atlanta that same year. In 1994, Ron obtained his Master's Degree from Georgia State University in Social Science. He completed his Education Specialist Degree in Leadership from Troy State University in 2004.
Ron taught and coached for eleven years in a variety of school settings. He was honored to be chosen as the Teacher of the Year at Geneva County (Hartford) High School as well as the Teacher of the Year for the Geneva County system. Ron served as an Assistant Principal for six years before becoming a principal in 2004. He served as a high school principal for fourteen consecutive years. Ron was named Superintendent of Geneva City Schools in 2018.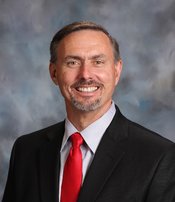 Ron and his wife, Kim, have five children, Magen Sorrells, Ben, Lanie Snell, Dovie Hughes, and Annamarie Wagner. In addition, they have eight grandchildren, Locke and Edie Snell, Evan and Aytch Sorrells, and Easton, Holland Grace, Merri Blaire, and Maybry Wagner. Ron and Kim attend Ridgecrest Baptist Church.


Ron will work hard to help ensure that every student that enters Geneva City Schools is provided a challenging curriculum, graduates on time, and is ready for college or a 21st-century job while having a genuine sense of pride in our awesome school system. He knows that this mission is critical and only possible if the faculty, students, parents, and community work together. Ron believes that together we can ensure each student will be ready for a successful life beyond high school and that Geneva City schools can and will continue to Grow a Tradition of Excellence.